SOLIS I 500 Insert stove
The SOLIS I 500 looks good in any situation whether its stand alone on a wall or replacing your open fire. Three times more efficient than an open fire, the SOLIS 500 takes up minimal hearth space and is the perfect solution where space is a premium.
Key Features
Nominal Heat Output 5kW to the room
81% - three times more efficient than an open fire
Fits into standard fireplace
3 and 4 frame models available
Primary air control for under grate air
Combined Secondary window wash & Tertiary control
Maximum log length: 260mm
Large viewing glass
Fully steel stove
Top flue outlet only
Easily connected to a standard 5"/127mm diameter chimney
External Air supply as standard - (100mm pipe not supplied)
Tested & approved to European standard - EN 13229
Ecodesign 2022 ready
Defra approved
Optional Extra
Multi Fuel kit available to burn other fuels than wood
External air supply kit

SOLIS I 500 Insert Documentation
Share this Product
Information on Wood Fuels
Dry seasoned wood contains up to 90% less moisture than fresh cut wood, which means it produces less steam and saves up to 50% of potential heat.
Also keep in mind that hard wood is a better option than soft wood as it is slower to burn, meaning you will use less.
Wood is a renewable fuel source that is gentler on the environment. It also helps the preservation of fossil fuels such as coal and oil.
Ecodesign Stoves
Ecodesign is the European-wide programme to lower emissions to improve air quality from a range of appliances that use energy including stoves and will come into force 1st January 2022. It will apply to both wood burning and solid fuel stoves.
Waterford Stanley is committed to certifying its stoves for Ecodesign 2022. Where you see the logo on our SOLIS and classic range, they have already been certified for Ecodesign 2022. All our gas, electric and pellet stoves are Ecodesign certified.
Spare Parts
At Waterford Stanley we stock spare parts on all our stoves and cookers we sell today and hold spares parts on stoves and cookers discontinued up to 10 years.
Your local Stanley Centre or Stanley stockist will be pleased to supply spare parts and to provide any other information your require. For further information on your stove or cooker and exploded views, go to the Technical Manuals section or to find your nearest Stockist.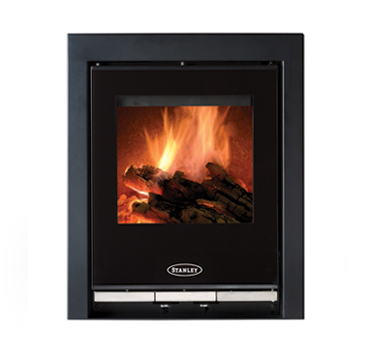 Technical Specifications
| | |
| --- | --- |
| Fuel | Wood |
| Function | Room Heating |
| Depth | 350mm Depth of Cassette Box - See manual for more information |
| Width | 490mm width of frame |
| Height | 550mm Cassette Box/590mm 3 Frame |
| Weight | 75kg |
| Flue Outlet Diameter | 5"/127mm |
Heating Resource Centre
At Waterford Stanley, we don't just sell you one of our amazing stoves then send you on your way, we've got a countrywide network of approved installers and service engineers to make sure everything is running as it should – as well as a wide range of parts on all our stoves, just in case there's a problem!
You can find your local installer or service engineer's contact details, further information or exploded views on your product and FAQs in our Resource Centre