Rangemaster are the market leaders in range cookers. From the distinctive design of the Elan Deluxe, to the contemporary innovative Nexus Steam, the Rangemaster is famous for its style and functionality. We are able to draw on a long history, stretching back over 200 years.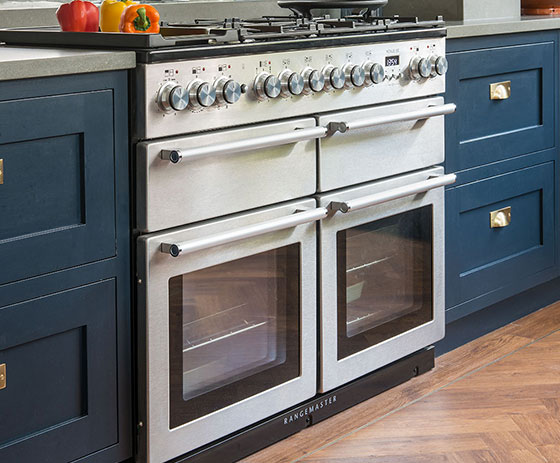 Choose a Rangemaster range cooker and you can benefit from a bigger oven – two ovens if you prefer – including a multifunctional oven that can defrost, fan grill, brown and fan assist, with rapid response for faster heat-up times. You'll also have a high-powered grill, a choice of gas, ceramic or induction hob, powerful wok burner and storage drawer.
Together with Waterford Stanley, Rangemaster is part of the Middleby Corporation, the leading global provider of commercial kitchen equipment. For more than 100 years the company has been innovating and leading the way in foodservice and you'll find Middleby brands in many of the world's most famous kitchens.
Why People Choose Rangemaster?
With a Rangemaster at the heart of the kitchen, the kitchen is always the heart of the home. That's why you'll find a Rangemaster in more homes than any other range cooker. So, why buy a Rangemaster? If being Ireland's most popular range cooker manufacturer isn't reason enough, read on to find out why we're in more homes than any other.
Style & Choice
Rangemaster range cookers come in 3 sizes, 90cm, 100cm and 110cm; available in fuels types namely dual fuels, all gas, ceramic and induction with up to 17 colour options, making Rangemaster the number 1 choice. Rangemaster styling. 
New colours include the 'Earth Collection' colours of Mineral Green, Stone Blue and Charcoal Black. What's more Rangemaster has 20 cooker collections all with different aesthetics. 
So with over 700 Rangemaster cookers to choose from, there really is a Rangemaster for every style, design, size and colour!
A family of over one million customers
When you buy a Rangemaster, you're joining the Rangemaster family. Today, much has changed at Rangemaster but their principle of creating, beautiful, functional, market leading appliances built by hand in Royal Leamington Spa continues to underline our success. 
For that extra peace of mind, all new Rangemaster products go through a series of tests to ensure they can stand the heat. Rangemaster Home Economist, Alex plays a  vital role she plays in making sure your model performs to the highest standard.
The Right Ingredients & Testing
It can take weeks to carefully craft a Rangemaster. The highest gauge steel is pressed, cut, washed, polished, and finally enamelled with Endurance finish. The frame is triple folded, creating a unique encasement for some of the highest quality components you'll find.
Rangemaster test, re-test and test again, refining our products to offer the best results; we are passionate and proud of making the finest quality range cookers on the market.
Rangemaster Built-In Appliances
Rangemaster's latest collection of built-in appliances that make cooking a pleasure; simple choices that marry innovation with versatility and style with practicality.
To give your kitchen the wow factor with plenty of practical features and functions for flexible cooking, Rangemaster built-in collection offers something for every cook. With ovens, hobs, compact appliances and refrigeration to choose from, in a variety of styles and sizes, each appliance is sleek, high-spec and designed with the same attention to detail and quality build that we use to create our popular range cookers.
Rangemaster Cookware
Rangemaster have a range of beautifully branded stainless steel saucepans, casseroles and frying pans have been designed exclusively for use with Rangemaster cookers, with exceptional performance on induction. Rangemaster textiles are 100% terry cotton and all gloves feature a steam and grease barrier for extra protection.
Rangemaster also have range of kettles and toasters which are a perfect blend of traditional style and modern functionality, the Classic Collection will make an elegant addition to your kitchen!⁠ Available in three colour choices - matt cream, matt black and matt slate grey, the collection will perfectly complement a Rangemaster range cooker, or equally look sensational on their own.⁠
More on Rangemaster
Choose a Rangemaster range cooker and you can benefit from a bigger oven. You'll also have a high-powered grill, a choice of gas, ceramic or induction hob, powerful wok burner and storage drawer