With 75 years of experience, Rayburn is still leading the way in providing cooking, hot water and central heating solutions, all in one outstanding cast-iron appliance.⁠ Its iconic design, reliability and flexibility make it the perfect choice for those who love great food and appreciate a cosy home.⁠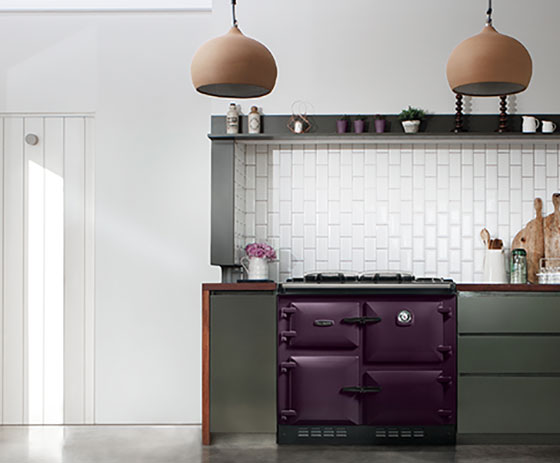 A Rayburn is a totally flexible and controllable cast-iron range cooker that will transform your kitchen in to a welcoming space. As good looking as it is practical, the choice of fuel types, size of appliance and 16 colours makes choosing a Rayburn the right choice for your home.
Not only do Rayburn cookers make delicious food but some models also have the ability to provide you with central heating. There is a boiler to suit every home - the smallest Rayburn model is able five radiators and the largest model is able to heat up to 20 radiators. With various sizes, fuel types and colours to choose from, the modern Rayburn is perfect for life in today's kitchen.
Rayburn Choice
With a choice of cooker only models, cooking and hot water or cooking, hot water and central heating models, a Rayburn can provide a solution for all your heating and cooking needs in one cast iron appliance.
Rayburn Cooking Only
The fully-electric Rayburn Ranger provides flexible, energy-efficient cooking and beautiful retro styling to the heart of your home.
The cooker includes two large capacity radiant ovens plus a warming oven, which operate independently. It also benefits from a grill, a cast iron hotplate, which can be set to boiling or simmering mode and two-zone induction hob.
The exterior is available in eight gorgeous colour options including traditional neutral shades and new bold hues; Tomato, Marmalade and Sunshine.
Rayburn Cooking, Heating and Hot Water
With an Rayburn central heating range cooker, you can have all your heating needs in one cast-iron appliance. That means you can enjoy a cosy, warm kitchen, hot water for all the family and heating for the rest of the home from one stunning appliance.
Whether it's oil, natural gas or LPG, Rayburn has a model to suit your heating needs, with a variety of boiler outputs that will heat two or three radiators. Plus, a constant supply of hot water.
Available in Rayburns 400 Series, 600 Series and Rayburn Heatranger, there's a Rayburn to suit any home.
Rayburn Cooking & Hot Water
Rayburn Cooking and Hot Water models give you a compact appliance yet provide the ultimate performance. Still offering a cast iron cooking experience, these models also provide hot water to your home ensuring you do not need space for an additional boiler.
Available in Rayburns 300 Series oil in stunning 15 enamel colours. 
More on Rayburn
For 70 years, Rayburn by AGA has been at the heart of many homes, leading the field in central heating cast iron range cookers.