La Cornue are a high end, luxury kitchen appliance brand and have been in business since 1908. As a member of the Excellence of French Savoir-Faire, they produce the finest kitchen ranges in France, USA, UK and all around the world. Knowledge, the finest materials, and a relentless dedication to improvement are the driving forces that lead La Cornue every day to make the finest cookers in the world.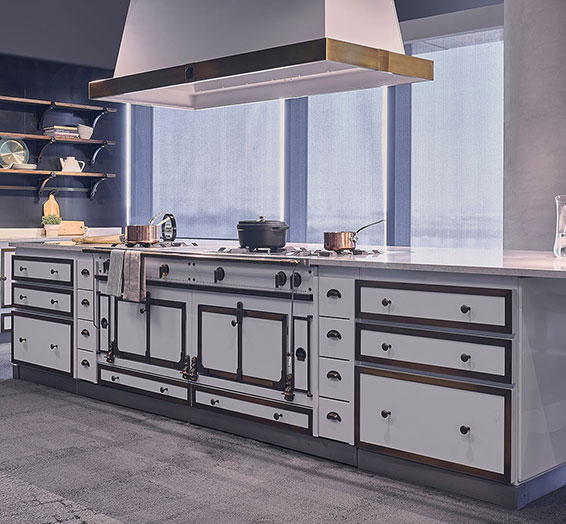 Bespoke
Each range is made by hand and the labour is intensive. Each worker is a specialist, understanding the greater goal.
They are not just craftsmen, but companions to each range along its journey from inception to crated final product. They are experts in steel, copper and brass, inspired by great design, working as a team to create an inspired tradition.
For over 100 years, La Cornue has continued to build upon Albert Dupuys initial convection innovation. They've expanded the design, introduced new styles, but still maintain that it's all done for one reason, and one reason only: the pleasure of the customer. 
La Cornue Range Cookers
Featuring unique vaulted ovens and timeless design, La Cornue Range Cookers combine traditional style with the latest technology to ensure outstanding cooking results. With a choice of two superb La Cornue Range Cookers aimed to match different budgets, there is something for every enthusiastic cook – from the prestigious La Cornue Chateau Series through to the mid-range and more contemporary La Cornue Cornufé 110. 
CornuFé 90 Albertine
The first step into the world of La Cornue. The Albertine range cooker is a perfect opportunity to enter the wonderful world of cuisine.
The Albertine range cooker combines all the characteristics of a CornuFé (elegance, signature design, and excellent cooking performance) with a single oven.
A sizeable oven (110 litres!) makes it possible to roast very large pieces or to two dishes at once for sharing and entertaining.
CornuFé 110
Powerful yet playful, the CornuFé is an ideal option for gourmets who wish to enjoy the excellence of La Cornue without having a haute-couture range.
A convection oven, high-performance burners or induction, and combinations of colours and finishes offer pleasure for the eyes and the palate.
This high-performance piece makes the French mode de vie accessible to everyone.
Château
Created in 1964 by the second generation of the Dupuy family, the Château line affirms the unique savoir-faire of La Cornue and champions the Maison La Cornue in the world of luxury cuisine.
With a choice of configuration, colours, finishes... no less than 8000 possibilities are available for you to make your range "tailor-made," just like your desires, your dreams, and your appetites.
Each Château is a masterpiece whose every detail has been designed to make your kitchen unique.
La Cornue Stockists
The following retailers have a CornuFé range cooker on display in their showroom
AGA Belfast Shop, Belfast 
Callaghans Electrical ,Letterkenny
Cunniffe Electric, Galway
Dalzell's of Markethill
Dominic Smith Electrical Expert, Dundrum Dublin
Finucanes Electrical Expert Ltd, Limerick
JJ Dwyer's, Cork
Telfords, Portlaoise
AGA Belfast Shop also has a Château on display.