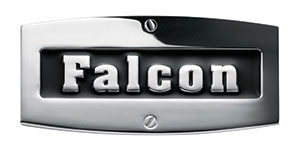 Falcon stems from a professional catering heritage and is still favoured by top chefs today as their cooker of choice. So, as a style conscious, passionate budding chef, what is it that Falcon can give you?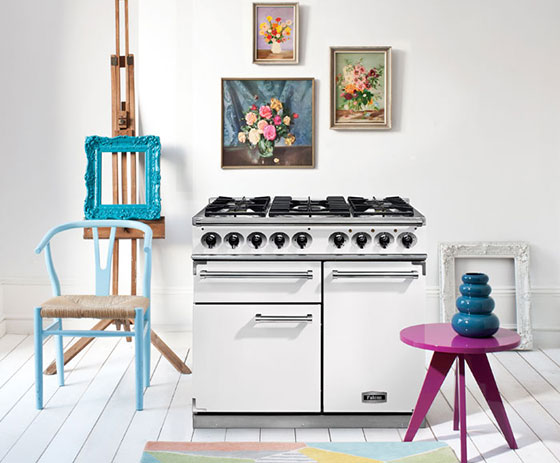 It's all in the Detail
Falcon range cookers are made from a thick 1.2mm gauge stainless steel, responsible for that oh so satisfying door 'clunk', our burners are solid brass and in one piece for ease of cleaning, and unlike most hob and cooker panels, our controls are ink moulded and injected onto a chrome plate for a dazzling professional finish that will last and never rub off, rather than painted straight onto the fascia – and if this doesn't convince you of the quality standard Falcon cookers exude, the statement stainless steel one-piece hotplate certainly sets this range apart.
Adaptable Style
A Falcon is not too dissimilar to a supermodel – they look good in whatever they wear! From urban spaces to the country manor, including all kitchens in between, a Falcon will take pride of place in any kitchen scheme.
Cooking Power
Offering the choice of powerful gas hob, or sleek look induction top, the Falcon range provides you with ultimate control and superior performance.
Our Dual Fuel models offer five professional standard burners, including a 5kW central burner, essential for the high temperatures needed in the expert's kitchen, achieving crisp stir-fries without the loss of nutrients and flavour! Our induction hobs are fast, responsive and incredibly controllable, utilising precise rotary control knobs rather than digital displays found on most electric hobs
Flexibility with Functions
We recognise that various foods favour a range of oven conditions – so we packed several of them into all our range cookers. The seven wonders of the Falcon multifunction oven include Defrost, Fan Oven, Fanned Grilling, Fan Assisted Oven, Conventional Oven, Browning Element and Base Heat, so you can crisp, bake, brown or grill to your heart's content!
Our Falcon grill is manufactured to make grilling a breeze. A seamless glide action grill rolls out to reveal four height settings and a solid durable grill tray. 
Colour Injection
We know you have a passion for cooking, so we also know how important it is for your kitchen kit to match your personal style, this is why we have introduced eight stunning colour variants to ensure your range cooker suits you.
Go retro with ice white, or pay homage to Falcon's commercial roots with a stainless steel model, even create your dreamy kitchen scene with a soft china blue cooker, and because we care about the finer details, we have a range of coloured hoods to complement too.