It's difficult to think of another household appliance that is as loved as the AGA cooker! AGA cookers come in a variety of sizes – from the smallest at 60cm to the largest at 210cm – and a variety of colours, including the newest Olivine.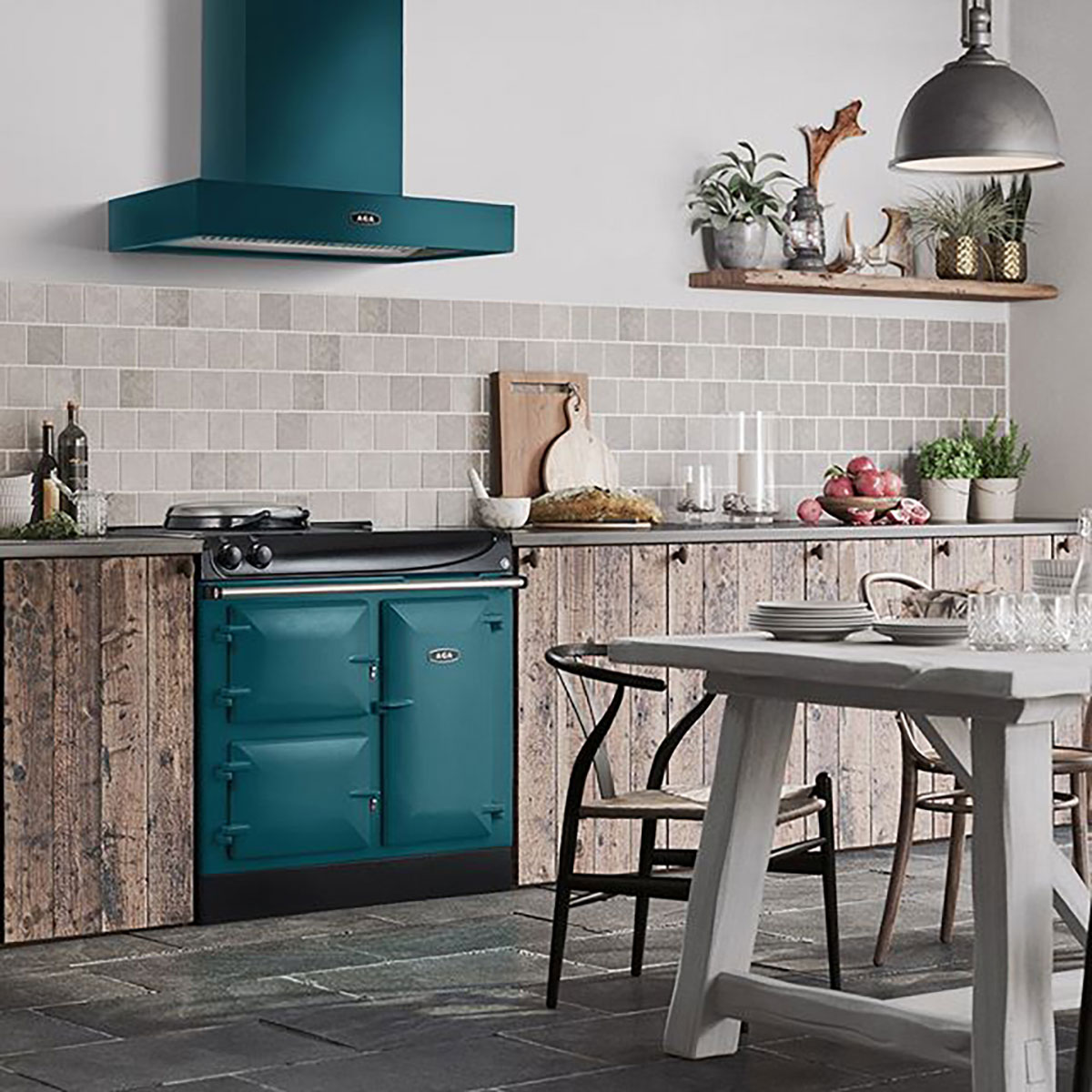 The AGA Difference
If you've ever owned an AGA, we don't need to tell you how food tastes better. We don't need to explain the unique warmth of an AGA kitchen. We don't need to tell you how tactile an AGA cooker is. These are all things you tell us. Perhaps, though, there are a few things you don't know. For example, the AGA cooker has changed hugely over the last few years:
There are many sizes – the smallest is just 60cm wide.
Many AGA cookers now come with state-of-the-art induction hobs.
The vast majority of AGA cookers are now electric and can be on when you want them and off when you don't, meaning you save both energy and money.
AGA Range Cooker Products Overview
AGA cast-iron cookers work differently, using gentle radiant heat. Cast iron is a fantastic material for retaining and – even more importantly – radiating heat. This kind of cooking is gentler on food and locks in all the moisture, flavour and goodness, meaning the food you serve tastes delicious.
Welcome to a new AGA ERA
ERA is a mix of evolution and revolution. It's where technology meets design and where heritage meets modernity. And it's where glass is used extensively for the first time to create a striking, unified aesthetic that is beautiful, contemporary and fits perfectly into a modern kitchen.
The all-electric AGA ERA features two large capacity cast-iron radiant heat-storage ovens, a fan oven, a powerful grill, four-zone induction hob and a controllable cast-iron hotplate, all wrapped in a contemporary black glass fascia and polished chrome trim.
24/7 Radiant Heat
Cookers in this range resemble most closely the original AGA. They are on all the time, keeping the kitchen cosy, and are ready to cook the moment you are. 24/7 AGA cookers do much more than just cook. They take the place of a tumble drier, toaster, bread maker and electric kettle and can even get creases out of freshly laundered items, such as pillow cases, and in a home with a 24/7 AGA the heating will tend to go on later in the season and off earlier.
AGA Range Series for 24/7 Radiant Heat:
AGA Dual Control
AGA R3 Series
AGA R7 Series
Everyday Radiant Heat
Cookers in this collection are designed to work for the way we live now, offering everything that's loved about the AGA but with added functionality. The ovens and hotplates can be switched on and off independently and, on certain models, a state-of-the-art induction hob sits alongside the traditional AGA hotplate. With models from just 60cm wide, up to the largest AGA ever, there's a model to suit every space.
Each day is different – maybe weekdays are all about speed and efficiency in the kitchen while the weekend is all about the slow, mindful enjoyment of cooking for friends and family.
AGA Range Series for Everyday Radiant Heat:
AGA eR3 Series
AGA eR7 Series
AGA Cookware
Every AGA enthusiast needs some AGA Cookware in their lives. Whether its the essentials for cleaning and maintaining your AGA, to whistling kettles, beautiful textiles, cookware pieces in cast iron, stainless steel, cast aluminium and made for AGA Portmeirion, Blue Italian Spode and Delamare Spode rural.
AGA Cookware also offers a range of essential including AGAs trademarked Bake o Glide. Bake-O-Glide is a unique range of reusable, non-stick liners. Use in place of tin foil or baking parchment when lining roasting tins and baking trays then simply pop in the dishwasher after use. Saving you time and money.
More on AGA
For almost 100 years AGA cookers have been at the heart of many homes. There are many reasons why these cast-iron cookers are a staple in so many kitchens.