Novy Easy Extraction Hob
Streamline your kitchen with Novy Easy! The cooker hood is completely concealed in the hob which means that only the discrete grill is visible. The extractor starts automatically for exceptionally efficient discharge of cooking vapours.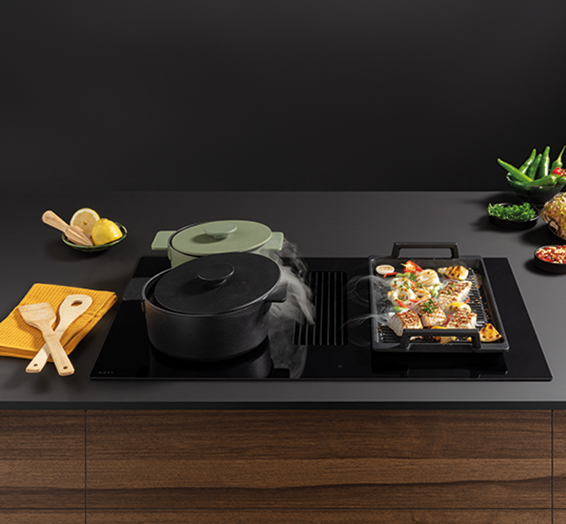 All the benefits of the Easy hob with built-in extractor
The powerful cooking zones are a dream for any amateur chef. You can easily switch them on using the central controls or connect them together for an extra-large cooking surface. As the icing on the cake, this hob with built-in extractor has lots of intuitive functions such as automatic pot recognition. As you can see, Novy Easy is true to its name!
See Novy Easy Video
Sleek look and exceptionally silent
A hob with built-in extractor blends in nicely with the design of any kitchen. There's no need to make space on the ceiling or against the wall, as the powerful cooker hood is fully integrated into the cooktop. This means that only the sleek grill is visible.
Novy cooker hoods are known for their silent operation. The Novy Easy also keeps the decibels to a minimum. The motor is located under the hob and it is both extremely economical and highly efficient.
Rapid Extraction and sophisticated design
The automatic extractor removes cooking vapours in your preferred way, using either traditional outwards air extraction or recirculation. Recirculation means that odours are treated indoors and pass through a charcoal filter – each filter lasts for up to 450 hours of cooking!
The hob with built-in extractor combines opaque black glass with a metal grill. This elegant look not only adds a calming appearance to your kitchen, but also has a practical benefit. That's because the elegant finish optimises airflow which means that steam can be extracted very efficiently.
Ease of Use and maintenance in no time
Novy Easy provides 4 large, square cooking zones which you can connect into powerful flexzones. The handy functions also provide added ease of use. Cooking has never been so easy and intuitive!
It is simple to clean the parts with a cloth and some washing up liquid. Furthermore, the grill and the grease filter frame are dishwasher-safe!
Discover the Easy Range
Novy Easy Pro recirculation 1861
4 cooking zones
Dimensions (WxD): 800mm x 520mm
2 bridge functions
Recirculation (standard, monoblock)
Novy Easy Pro 1851
4 cooking zones
Dimensions (WxD): 800mm x 520mm
2 bridge functions
Outwards air extraction